2016                                                                    2016

******************************************************
SAFETY FIRST !!!!!
AT THIS TIME EACH YEAR WE HAVE NEW PEOPLE ON OUR RANGE. WE WANT ALL OF THEM TO KNOW THAT WE ALWAYS FOLLOW AND ENFORCE THE FOLLOWING NRA SAFETY RULES !!
Please read and act responsibly while using Brush Creek Range Facilities. Thank you, The Board members.
The Basics: The NRA\'s 11 Rules of Gun Safety
1) Always keep the gun pointed in a safe direction (Treat every gun as if it is loaded.)
2) Always keep your finger off the trigger until ready to shoot.
3) Always keep the gun unloaded until ready to shoot.
4) Know your target and what is beyond.
5) Know how to use the gun safely.
6) Be sure the gun is safe to operate.
7) Use only the correct ammunition for your gun
8) Wear eye and ear protection as appropriate.
9) Never use alcohol or drugs before or while shooting.
10) Store guns so they are not accessible to unauthorized persons.
11) Be aware that certain types of guns and many shooting activities require additional safety precautions.
****************************************************
DECEMBER 17, 2015
FROM TIME TO TIME WE RECIEVE COMPLAINTS ABOUT BULLETS (RICOCHETS) LEAVING OUR TARGET AREAS. WHILE WE HAVEN'T SEEN ANY EVIDENCE OF THIS OCCURING, WE ASK THAT EVERY SHOOTER PRACTICE GUN SAFETY AND ALWAYS KEEP YOUR WEAPON POINTED DOWN RANGE AT A VERY LOW ANGLE WHEN NOT IN THE GUN CASE.
THANK YOU,
THE BOARD
*****************************************************************
WHEN USING RIFLES, PLEASE USE THEM ONLY ON THE RIFLE RANGE. DO NOT USE RIFLES ON THE PISTOL RANGE OR THE SHOTGUN RANGES.
THANK YOU,
THE BOARD
******************************************************************
THE BOARD HAS BEEN ASKED RECENTLY ABOUT THE USE OF TANNERITE & OTHER TYPES OF EXPLODING TARGETS. WE HAVE DECIDED THAT THE CLUB WILL 

NOT

PERMIT THE USE OF EXPLODING TARGETS AT BRUSH CREEK RANGE.
****************************************************
Policy statement concerning usage of: Brush Creek Range.
 1)  OUR RANGES ARE FOR PRIVATE, INDIVIDUAL PRACTICE ONLY.
 2)  Only fully paid members are permitted the privilege of using our facilities.

ALL

others will be subject to fines and/or other legal remedies.
 3)  We do not, and will not authorize any group or organization to use our facilities for firearm training or any other organizational activities.
SO THERE IS NO MISUNDERSTANDING:
 

While we receive many requests from various groups every year, NONE of them have ever been granted.
EVERY SHOOTER MUST BE A MEMBER!!!
 If you are unsure of anyone in our area while you are practicing;
 1) Introduce yourself and GET THEIR NAME(S).
2) Ask to see their current membership card(s).
3) If they do not have a current card, please report them ASAP to the board of directors.
4) All members must sign in and out each time they use our range.
5) See your copy, or a posted copy of the range rules. Do not ignore any of them.
 THE BOARD OF DIRECTORS
GALESBURG RIFLE CLUB, INC.
******************************************
CONGRATULATIONS TO THE DAROLD AUSTIN SHOOTER OF THE YEAR AWARD WINNER FOR 2015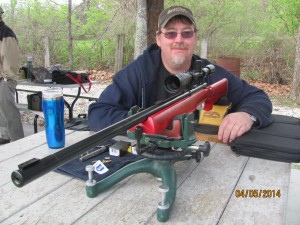 Nice Shooting J.J. Coe !!!!