2014                                                                   2014

***********************************
MEMBERS ONLY:

To participate in a Poll concerning an Illinois Concealed Carry course

to be held locally in 2014 go to the link below……………
****************************************************
THE GALESBURG BRUSH CREEK RANGE HAS ALWAYS BEEN RUN ON THE HONOR SYSTEM.  EACH MEMBER NEEDS TO EVALUATE HIS/HER OWN ABILITY TO FOLLOW OUR RULES.  RECENTLY WE HAVE HAD HIGH USAGE AND ARE HAVING LOW SIGN-IN VOLUME.
***************************************************
THE BOARD HAS BEEN ASKED RECENTLY ABOUT THE USE OF TANNERITE & OTHER TYPES OF EXPLODING TARGETS. WE HAVE DECIDED THAT THE CLUB WILL 

NOT

PERMIT THE USE OF EXPLODING TARGETS AT BRUSH CREEK RANGE.
****************************************************
Policy statement concerning usage of: Brush Creek Range.
 1)  OUR RANGES ARE FOR PRIVATE, INDIVIDUAL PRACTICE ONLY.
 2)  Only fully paid members are permitted the privilege of using our facilities.

ALL

others will be subject to fines and/or other legal remedies.
 3)  We do not, and will not authorize any group or organization to use our facilities for firearm training or any other organizational activities.
SO THERE IS NO MISUNDERSTANDING:
 

While we receive many requests from various groups every year, NONE of them have ever been granted.
EVERY SHOOTER MUST BE A MEMBER!!!
 If you are unsure of anyone in our area while you are practicing;
 1) Introduce yourself and GET THEIR NAME(S).
2) Ask to see their current membership card(s).
3) If they do not have a current card, please report them ASAP to the board of directors.
4) All members must sign in and out each time they use our range.
5) See your copy, or a posted copy of the range rules. Do not ignore any of them.
 THE BOARD OF DIRECTORS
GALESBURG RIFLE CLUB, INC.
******************************************
                  2014
LARRY COON'S JULY NEWSLETTER
All kinds of perfect scores were shot this month.  In the rim fire match, Steve Frakes fired a perfect 250 in the 10.5 class with 17 X's.  In the center fire match, Bob Cotton had a perfect score in the 100 yard segment with 11 X's with his flat stock rifle and John White did the same with his round stock entry.  Congratulations to these three shooters or putting 25 consecutive shots into the 10 ring.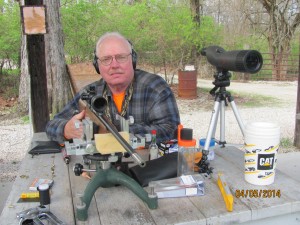 Steve Frakes
This month's matches were unusual in that there was very little wind to contend with.  Especially on center fire day.
If you check the scores, you'll see that they seem to be increasing which indicates that we're getting better.  This is especially evident in center fire.  Look at the number of scores over 240.  There is also a good number of 240 plus scores in the rim fire category too.
Two more perfect score shooters.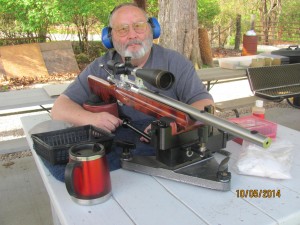 Bob Cotton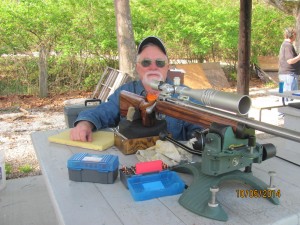 John White.
Next Matches
Rim Fire Aug 3
Center Fire Aug 10
**************************************
CONGRATULATIONS TO THE DAROLD AUSTIN SHOOTER OF THE YEAR AWARD WINNER FOR 2013
  Nice Shooting John !!!!
  ———————————————————————
SEE RIMFIRE PAGE FOR SCORES & SEE CENTERFIRE PAGE FOR SCORES
FOR PLANNING PURPOSES:  Our mowing is done on Thursdays, approximately twice each month. If the weather is wet on Thursday this may get moved around. Bill Devena has done a very good job this past year and ONLY asks that the range be closed while he is mowing. With his equipment it usually only takes about a hour.
For a map and directions, see the Contact Page.