2015                                                                   2015

****************************************************
Thank You to all who participated in our Clean Up Day
Saturday, March 28!
A Good time was had by all!!
****************************************************
DECEMBER 17, 2014
FROM TIME TO TIME WE RECIEVE COMPLAINTS ABOUT BULLETS (RICOCHETS) LEAVING OUR TARGET AREAS. WHILE WE HAVEN'T SEEN ANY EVIDENCE OF THIS OCCURING, WE ASK THAT EVERY SHOOTER PRACTICE GUN SAFETY AND ALWAYS KEEP YOUR WEAPON POINTED DOWN RANGE AT A VERY LOW ANGLE WHEN NOT IN THE GUN CASE.
THANK YOU,
THE BOARD
*****************************************************************
WHEN USING RIFLES, PLEASE USE THEM ONLY ON THE RIFLE RANGE. DO NOT USE RIFLES ON THE PISTOL RANGE OR THE SHOTGUN RANGES.
THANK YOU,
THE BOARD
******************************************************************
THE BOARD HAS BEEN ASKED RECENTLY ABOUT THE USE OF TANNERITE & OTHER TYPES OF EXPLODING TARGETS. WE HAVE DECIDED THAT THE CLUB WILL 

NOT

PERMIT THE USE OF EXPLODING TARGETS AT BRUSH CREEK RANGE.
****************************************************
Policy statement concerning usage of: Brush Creek Range.
 1)  OUR RANGES ARE FOR PRIVATE, INDIVIDUAL PRACTICE ONLY.
 2)  Only fully paid members are permitted the privilege of using our facilities.

ALL

others will be subject to fines and/or other legal remedies.
 3)  We do not, and will not authorize any group or organization to use our facilities for firearm training or any other organizational activities.
SO THERE IS NO MISUNDERSTANDING:
 

While we receive many requests from various groups every year, NONE of them have ever been granted.
EVERY SHOOTER MUST BE A MEMBER!!!
 If you are unsure of anyone in our area while you are practicing;
 1) Introduce yourself and GET THEIR NAME(S).
2) Ask to see their current membership card(s).
3) If they do not have a current card, please report them ASAP to the board of directors.
4) All members must sign in and out each time they use our range.
5) See your copy, or a posted copy of the range rules. Do not ignore any of them.
 THE BOARD OF DIRECTORS
GALESBURG RIFLE CLUB, INC.
******************************************
                  2014
LARRY COON'S SEPTEMBER NEWSLETTER
We had good weather for the final rim fire match of the season.  Wind flags hardly moved.
Jim Thompson came through in the sporter class with an outstanding score of 249 with 20 x's.  Maybe he should shoot that rifle in all three classes.  Jerry Wick won the 10.5 class with 248 and 14 x's and Steve Frakes won the unlimited class with 248, 13 x's.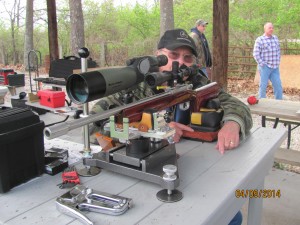 J. Thompson won the Sporter Class
Final scores are the closest they have ever been in determining the class winners.  In the unlimited class, S. Frakes edged out J. Wick by only one point.  In the 10.5 class, Jerry was the winner over Steve by only 5 points.  That's competition.
 If we had two words to describe the September Center Fire match it would probably be COLD and WINDY.  However, shivering and wind adjustment aside, the scores were good.  We were happy to see Carl Dillon and Jerry Wick join us this month.  Their absence from center fire competition hasn't dulled their sense as they both shot very good scores, tying with a score of 489.  Jerry edged Carl out with 13 x's over Carl's 7.  Bob Cotton was named winner again in the flat top class with a super good score of 493, 17 x's.  In the round stock class, John White was named winner with 483, 9 x's followed by Tom Jones with 465, 4 x's.
Our thanks to Kim and Steve Frakes for scoring the center fire matches this season and thanks to John Hutchins for scoring the rim fire matches when he's not on the river.
 I think most shooters will agree that it's been a good year as Brush Creek.  We have two new rim fire shooters in J.J. Coe and Cam Dillefeld (Cam shoots center fire too), and the scores are ever increasing.  If I get time this winter I would like to make up a spread sheet showing the increase in scores for the past 4 or 5 years. If this happens, I'll send it along to you.
 The addition of the golf cart was well received by our center fire shooters.  It's nice to be able to clean rifles, drink coffee, etc. instead of taking the hike to set up targets.  I know the pistol shooters appreciate the improvements made it that area and I hear that there will be additional improvements to the rifle range next year.  The board is doing good.  Concealed Carry has caused an increase in membership which means more income which means more can be done to make the Brush Creek range better than ever.
 So, now we have the winter months to accumulate ammunition, buy new and better rifles, etc. in preparation for the 2015 season.  
 This is your final reminder to check out our web site.  Ken will soon have this year's final results on line and you can check out the new photos.
 I'll send you an email as soon as the board has set the date for this year's award dinner. 
**************************************
CONGRATULATIONS TO THE DAROLD AUSTIN SHOOTER OF THE YEAR AWARD WINNER FOR 2014
  Nice Shooting John !!!!
  ———————————————————————
SEE RIMFIRE PAGE FOR SCORES & SEE CENTERFIRE PAGE FOR SCORES
FOR PLANNING PURPOSES:  Our mowing is done on Thursdays, approximately twice each month. If the weather is wet on Thursday this may get moved around. Our mowing crew has done a very good job this past year and ONLY asks that the range be closed while he is mowing. With his equipment it usually only takes about a hour.
For a map and directions, see the Contact Page.